In the end, Mohamed Elneny, Ben White, Martin Ødegaard and Aaron Ramsdale all fell to their knees, while most of their teammates stared blankly with their hands on their hips. Mikel Arteta completed his formalities in no time before disappearing into the tunnel, knowing that Arsenal's Champions League prospects had almost certainly slipped away too. That old 'Spursy' joke will now be tested to the limit: either north London team could still pull it off, but it would take a barely imaginable stumble for Tottenham to let fourth place slip away.
What a moment it was for Arteta's players to put in arguably their worst performance of the season. If the manager had been tempted to search the cupboard for complaints, as he was after they were swept away in last Thursday's derby, then he would have found it completely empty.
Arsenal simply didn't show up, withering in another white-hot atmosphere against opponents who must be wondering what 2022-23 will bring if they continue to operate with this verve. St James' Park vibrated throughout, bouncing to the beat of an entirely superior Newcastle side who could have scored many more.
To be fair to Arteta, he accepted the obvious: that offers like this are nowhere near the level required. He was knocked down afterwards and that's no surprise given that for long break-in periods Arsenal have been in the driver's seat for a place among the top flight. When the dust settles, it will rightly reflect that the fifth, where they will surely finish, represents admirable progress and that a young team has reinvigorated a hitherto numb club. But that must not let down a spineless performance in which a mid-table Newcastle showed far greater hunger, appetite and quality.
The suggestion after a dominant but toothless first half from the hosts was that Newcastle had expended a lot of energy to achieve relatively little. Allan Saint-Maximin, who roasted Takehiro Tomiyasu until the right-back was pulled out through injury, had drawn a decisive save from Aaron Ramsdale but otherwise their ferocity in the challenge and the absolute certainty of their death had forged few clear openings.
Maybe Arsenal would pull themselves together, take advantage of any lull and come out on top in the second half. Bukayo Saka had tried to liven them up with a few slightly threatening outings, but it was the thinnest mush. The warning signs that it would be a long night were evident from the first moment. If Ramsdale and White are off beam, trouble usually ensues. Ramsdale's fondness for the edge of the abyss almost got the better of him early on but, when Miguel Almirón tried to pass out, the ball strayed away from goal; White, past form with defensive partner Gabriel Magalhaes, was booked for a tug on Callum Wilson and was uncharacteristically sloppy in possession.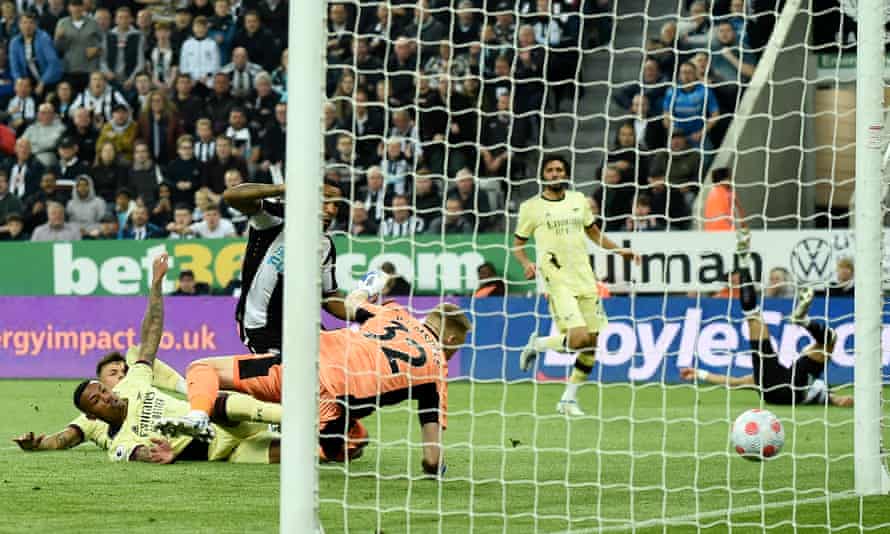 Ten minutes after the break, it was White who unknowingly hijacked things from Arsenal. Arteta had just introduced Gabriel Martinelli in a bid to instill at least a modicum of urgency, but Newcastle surged forward again and Joelinton had acres of space to attack down the left. A delightful cross seemed destined for Wilson and White couldn't be blamed for straining every sinew to step in; he could only manage to send the ball skidding past Ramsdale, however, and from there it was hard to see a way back.
Arteta launched more forwards but Arsenal could have been knocked out several times afterwards. Ramsdale twice turned down substitute Jacob Murphy and Wilson, starting for the first time since December after recovering from injury but leading the line brilliantly, was inches off target from long range. The visitors remained unable to create a serious chance, with Ødegaard having one of those games where a formidable footballing brain cannot make up for a deficit in aggression while Elneny and Granit Xhaka barely competed in midfield. While Xhaka served as Arsenal's flop mouthpiece afterwards, he certainly couldn't claim to have risen above average.
Newcastle finished the job when Ramsdale rushed to thwart Wilson but couldn't muster and Bruno Guimarães kicked in the loose ball. Guimarães was sort of the best player on the pitch; he and Joelinton, also very impressive, were the heart of the game and fed on a din from the stands that rarely stopped.
The excitement here was due to Newcastle's obvious momentum and the fact that other players of Guimarães quality will surely follow him this summer. They will be celebrated locally, insofar as consciences allow it; full-time co-owner Amanda Staveley congratulated Eddie Howe's players and, joined by new Saudi director Majed Al Sorour, sang the end-of-season festivities on the pitch. The evening had been all about shooting Arsenal in the Champions League, but few would seriously expect Newcastle not to have theirs soon.
Arteta must cling to the slim hope that, if his charges do the trick against Everton, Tottenham somehow fall flat at relegated Norwich. "In football anything can happen," he said, but Arsenal squandered a glorious opportunity to retain control of their destiny.