Tulips might be the easiest flower to arrange in a vase. Here are some tips on how to ensure you're getting the best bang for your buck.
Tulips have always been up there as one of my favorite flowers, all along anemones and peonies. A bouquet of tulips is what I'll turn to when I know I don't have much time to arrange, or, when I want a flower that doesn't need fillers or extra flowers involved. It's also the flower my husband knows is always a safe choice to bring home. Have you ever seen men dying at the flower shop? It is not easy. Ladies, teach your men that tulips are always a good choice.
Here are some tips on how to manage tulips successfully: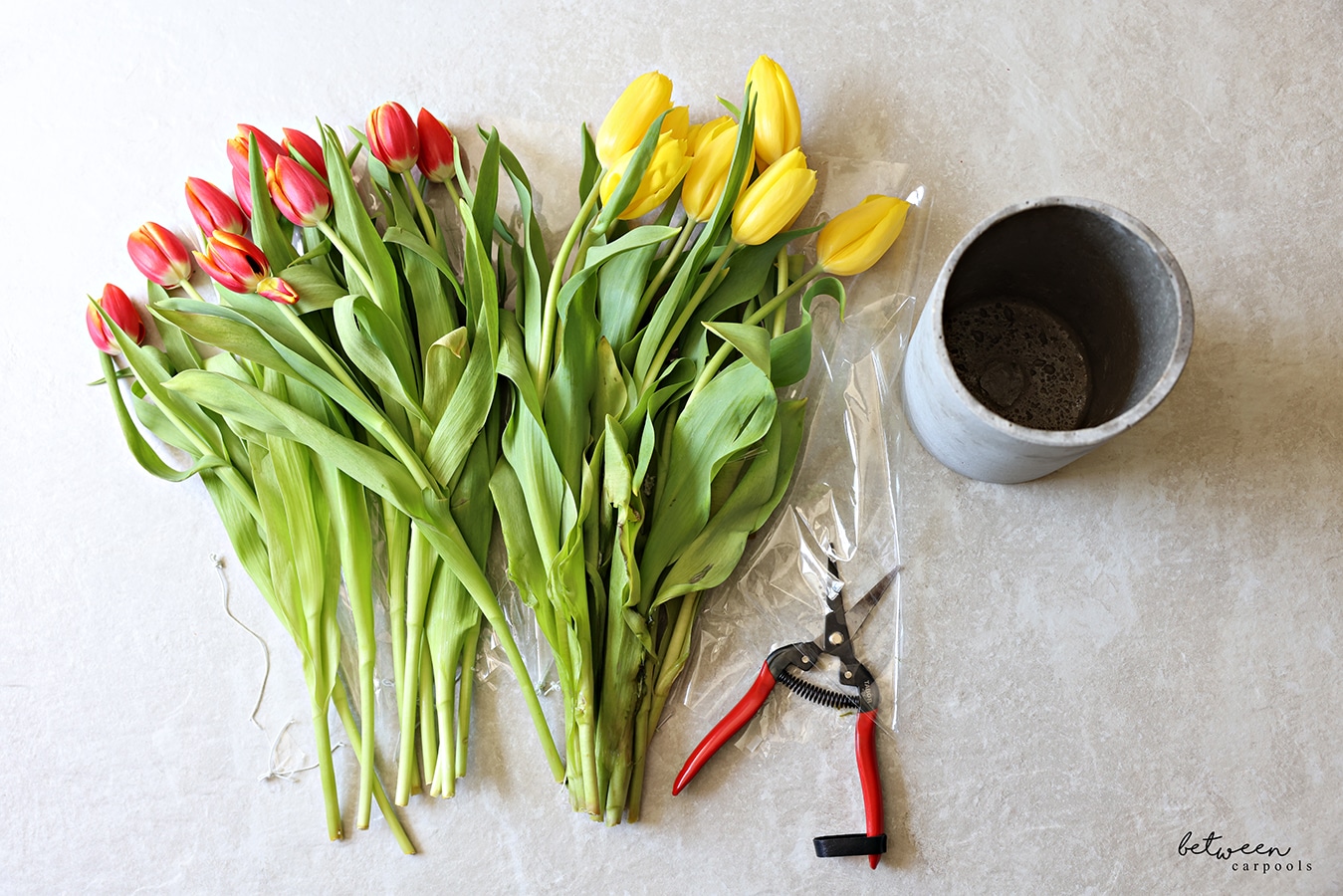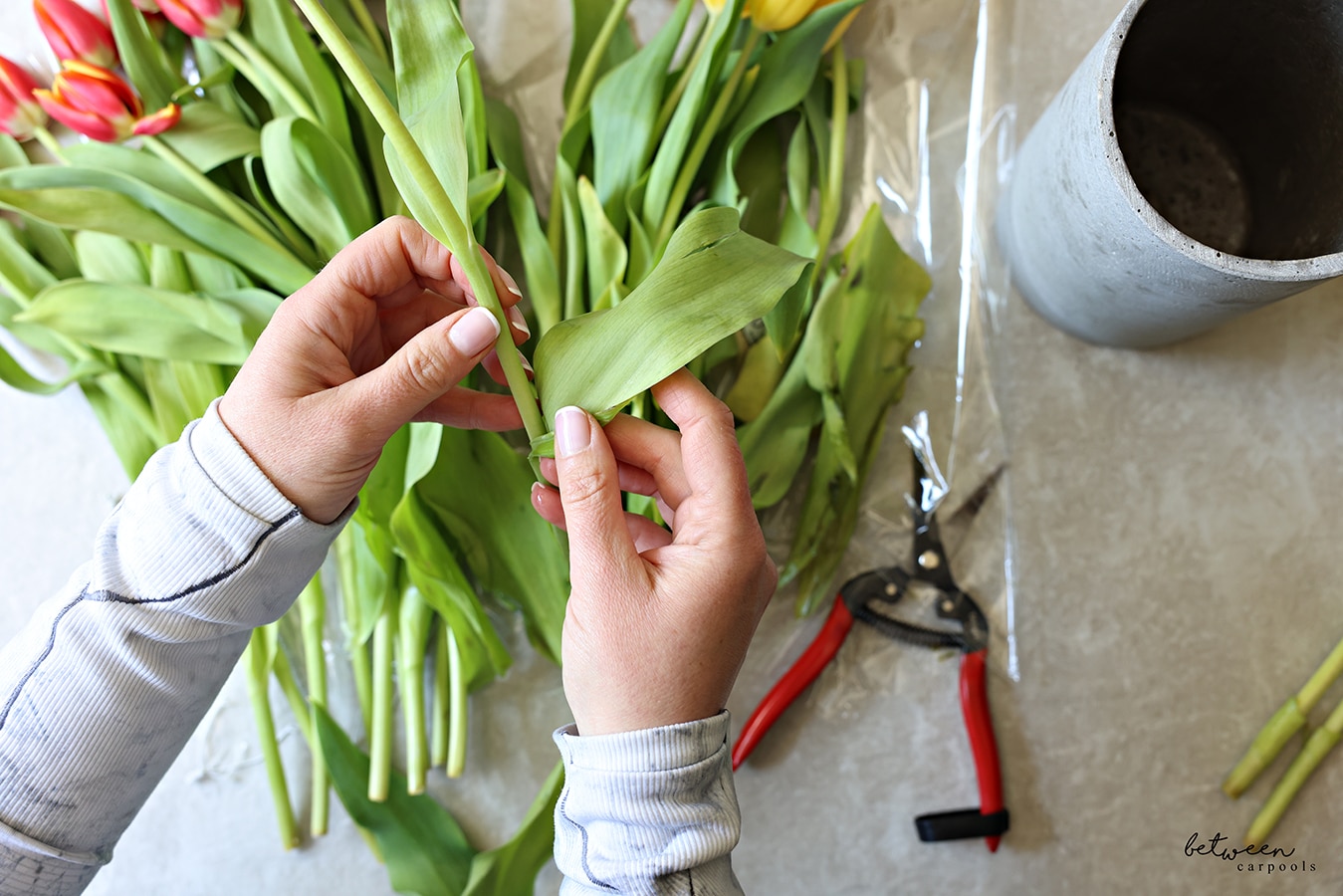 Remove some leaves.
Tulips have lots of leaves. You want to remove some of the outer layers, usually 2 or 3 sheets. This allows for a prettier bouquet and a longer life in the vase. Leaves in water tend to rot, which affects water quality. The leaves should never be in the water.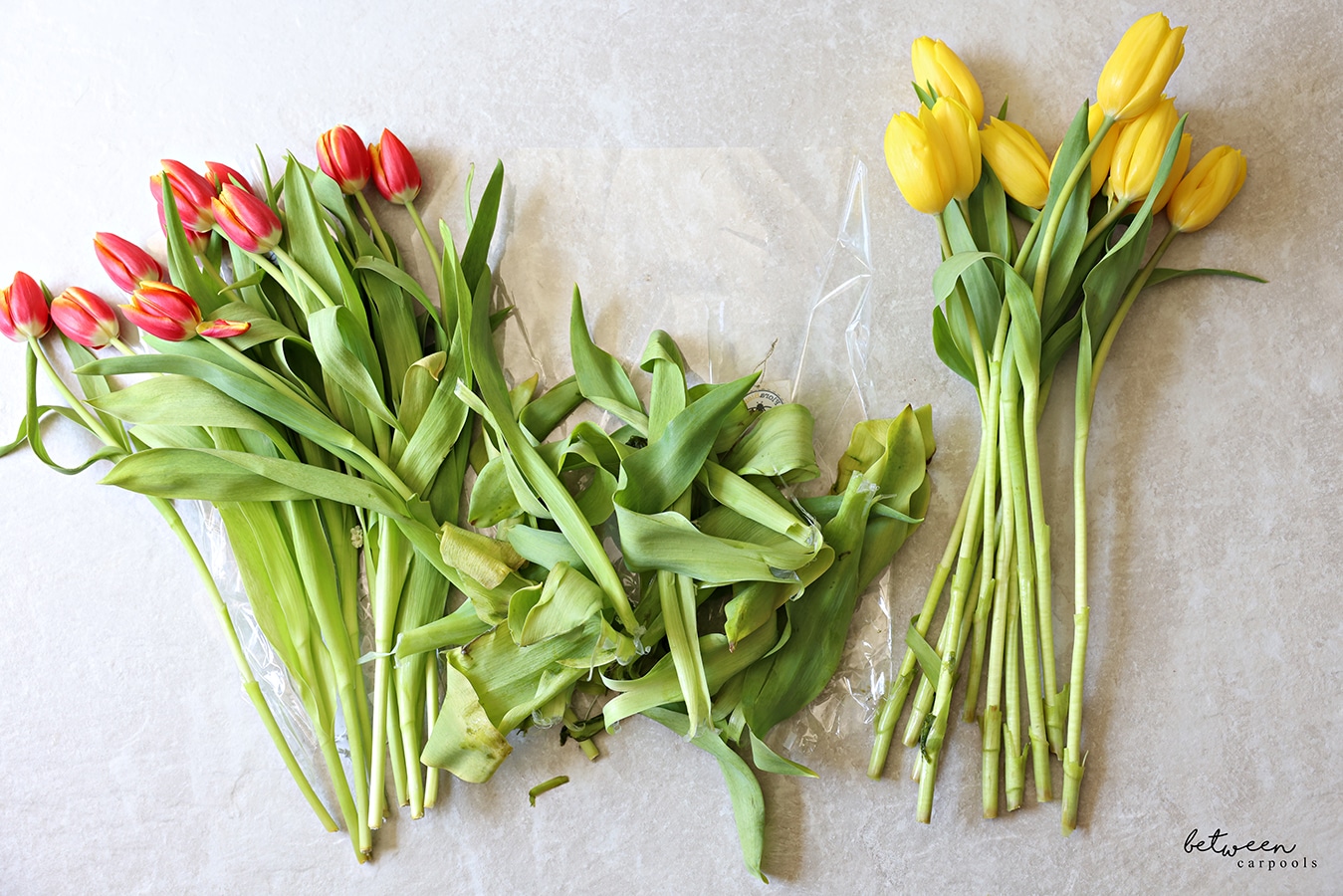 Look at the difference? "Clean" tulips are on the right.
Also, it is common to come across a tulip that is starting to rot. You will notice that the stem is soft or moldy. If you see this, discard the flower as it will affect other healthy flowers.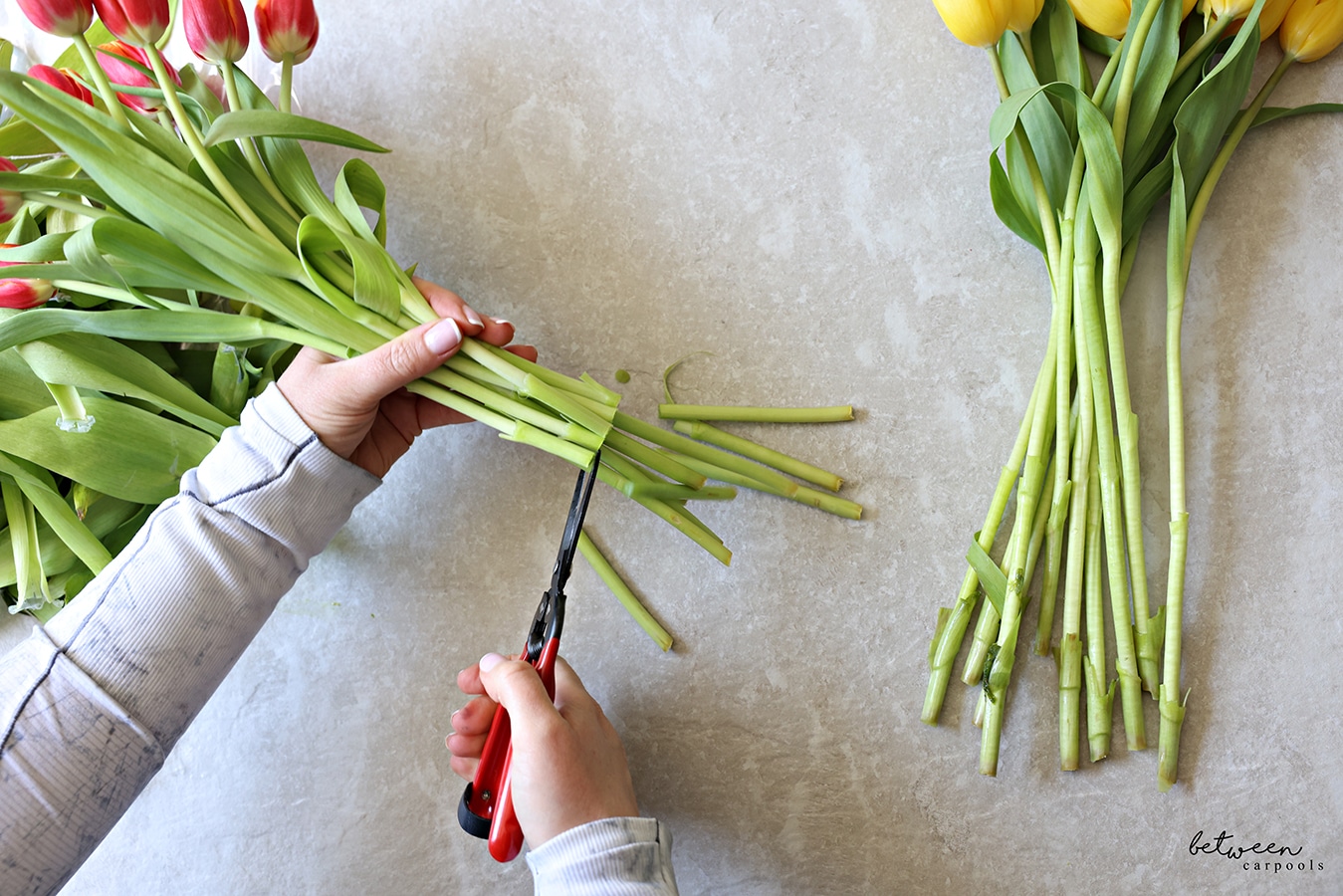 You are now ready to prune the tulips. You still want to cut, even if you want to keep the length. A ¼ inch filling is also sufficient. But the size is still important so that the flower can drink properly.
Measure the flowers in the vase you plan to use and see how high you want them, then prune them. These are the shears that I like, I wrote about them in this post here.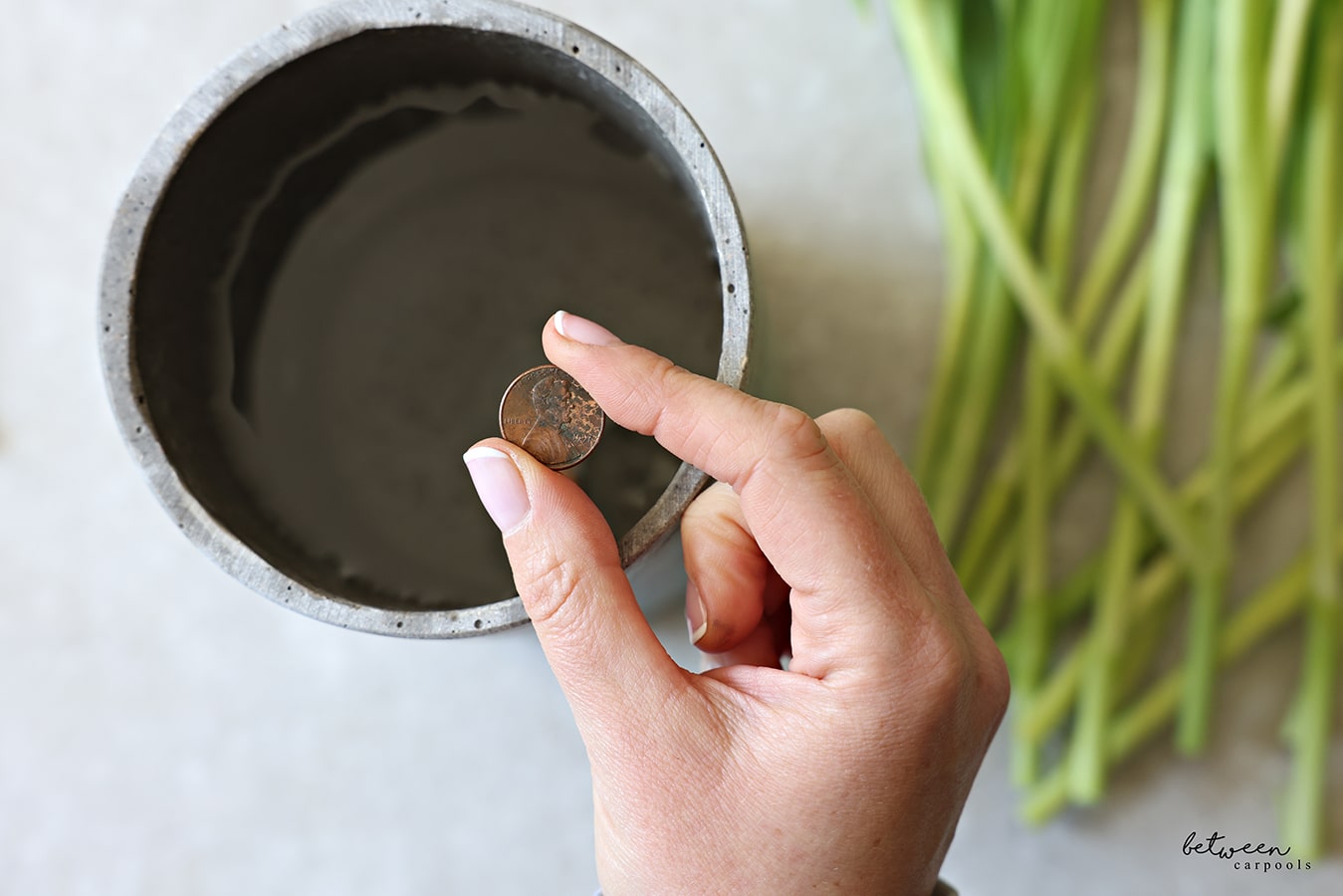 Fill your vase with fresh water and place a penny in it. Why a penny, you ask? I wasn't sure myself so I googled and found out that pennies are considered a smart way to keep flowers alive longer because copper is a fungicide, so it naturally kills those pesky bacteria and fungi that try to camp in your flower vase and shorten the life of your stems.
Definitely worth a try, okay? So goes a penny.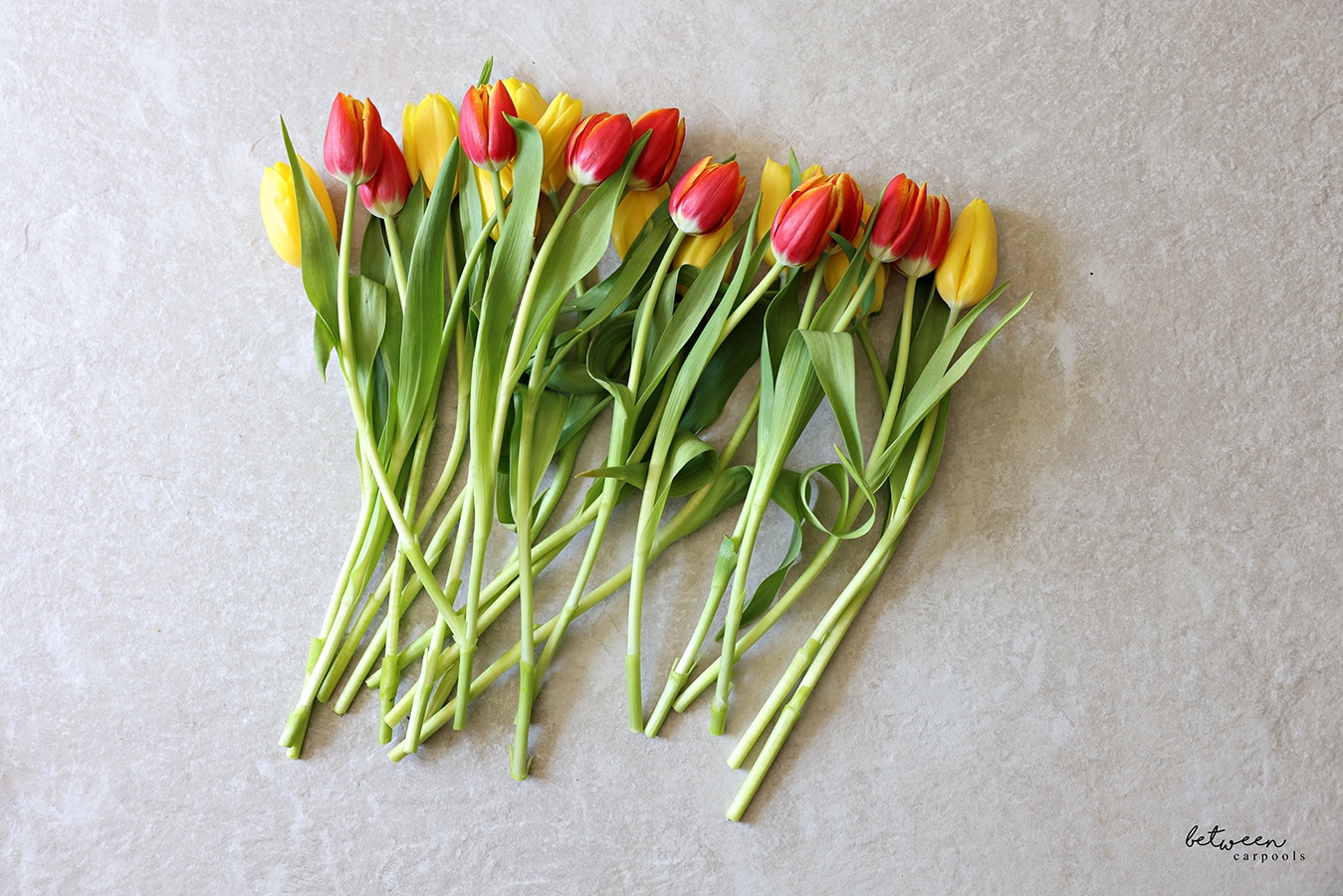 When I'm using two colors of tulips, I like to lay out the stems on the counter so I know they're well blended, and only then gather them up and place them in the vase.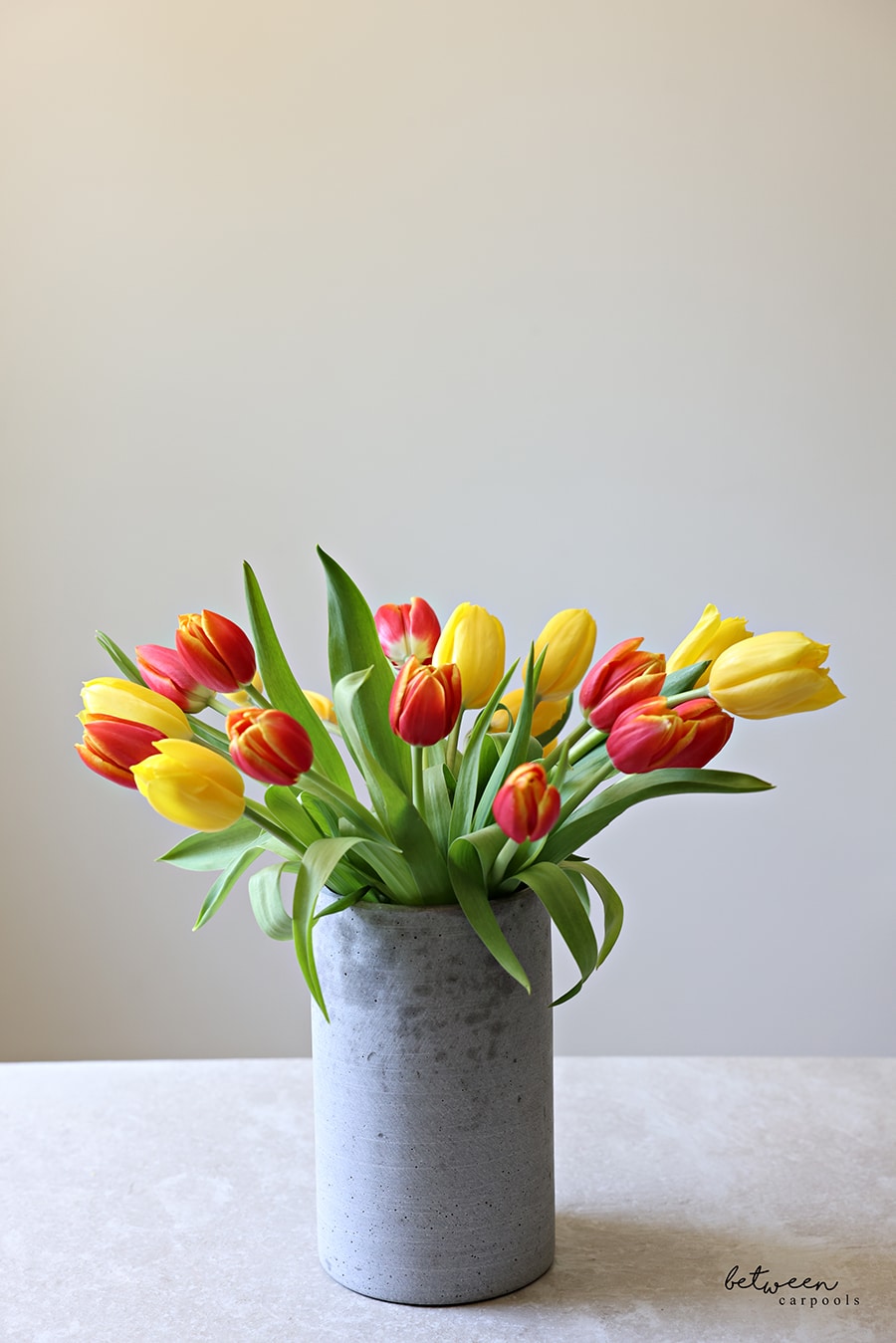 And… you're done! Your bouquet is ready. And it will last, this time.
Remember! Tulips drink a lot of water! Continue to check the water level and add more as needed. You will be amazed at how fast they drink!
Tulips are affordable enough that if you want a nice effect, you can buy a few bouquets and place them in a large vase. As the days pass, they will grow in the vase and come to life, following the light and branching out.
FOR EXCLUSIVE CONTENT AND A LOOK BEHIND THE SCENES, BE SURE TO JOIN OUR WHATSAPP STATUS HERE. JOIN OUR WHATSAPP GROUP AND WE'LL LET YOU KNOW WHEN A NEW POSITION IS POSTED!