I will always remember that opening press conference.
For years, many had assumed that Mike Martin Jr. would be the next baseball head coach at Florida State. But nothing was set in stone.
And I can promise you that for a long time he wasn't sure he'd ever get the job – even with all his years at FSU, and even with his first and last name the same as the icon. coach he worked for. over the previous two decades.
But then his father retired. And he was, in fact, named FSU's next head coach.
Stay connected to all your favorite FSU sports coverage!
*** Get the FREE Warchant app in the Apple Store or Google Play
*** Subscribe to our YouTube channel for new fresh videos every day
*** Sign up for our exclusive newsletter to never miss important FSU news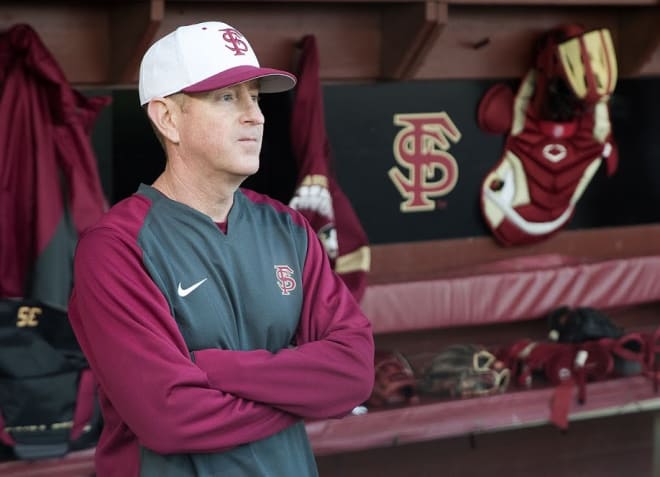 It happened just three years ago. He came after a stunning run by the Seminoles in Omaha – a fitting way to send off their legendary head coach, Mike Martin Sr., after 40 successful seasons.
During that introductory press conference, Martin Jr. of course mentioned his father and how he wanted to carry on the tradition he had built. But he also made sure to mention the ways he wanted to modify the program. To modernize it.
He was going to call in sports psychologists, be more aggressive, remove names from the back of jerseys, change dugouts… and all the rest.
Here we are three years later. Two full seasons later.
And Mike Martin Jr. is unemployed.
I admit that I am surprised by the decision. I wrote last week that he wouldn't be fired after two full seasons, and I was clearly wrong.
But if you're reading this column, I haven't painted a pretty picture of the state of the program either. Commissioning continued to be disastrous. The baserunning was comical. And the offense could be the worst in school history.
On top of all that, year-end pitching deteriorated to the point that in the biggest game of the season, the Seminoles gave up 21 points to Auburn.
It was hard to show anything the FSU baseball team did well. Which, you know, isn't so encouraging if you're a fan or (more importantly) a sporting director.
So, no, not much pink. And while I didn't think a change was imminent, I thought "Meat" was in serious danger of being relieved of his duties if 2023 wasn't better.
I was a year late.
The question some might ask is: why was the decision made now?
As badly as the Seminoles have played at times over the past two seasons, they weren't a hindrance. The program did not fall off a cliff. They weren't 18-38. It hadn't become a total debacle.
Was it up to FSU standards? Of course not. But he also did not resume the 1999 program.
The Seminoles had some serious warts — ones that were somewhat masked by that superb College World Series held in 2019 as one of the last teams in the tournament.
Still. Looking at the program objectively – as athletic director Michael Alford is paid to do – something was clearly wrong. The fundamentals were missing. Sometimes severely.
The team didn't seem to be having much fun. At all. And they didn't seem to take pride in playing baseball the right way (i.e., not looking like a peewee team on base runs over and over and over again).
It all falls at the head coach's feet.
And yet, I'm still not sure that's the only reason Mike Martin Jr. is no longer Florida State's head coach.
During the season, we heard rumors that there was serious discord in the clubhouse. But you always hear that stuff when a team doesn't live up to expectations.
After the season, that noise seemed to grow exponentially. We heard that families weren't happy because their sons weren't happy. And it wasn't just about playing time either. There were concerns about how the program was being run, from people inside the program.
Now, should a DA make decisions about their coaches because some moms and dads aren't happy? No not necessarily. But if those parents — and especially their sons — are reporting genuine, substantial issues, and they're talking about jumping into that ubiquitous transfer portal if no changes are made, that can impact things.
Especially if Alford deems these complaints legitimate.
As I wrote last week, I didn't think two seasons was enough to know for sure that Mike Martin Jr. wouldn't be a successful head coach at Florida State. I figured he would have another year to prove it one way or another.
But I'm not Michael Alford. I have no idea who he talked to. I don't know what happened behind the scenes, and what he was hearing specifically from players and their families about the state of the program.
Apparently, that was enough — along with the aforementioned struggles to do anything fundamentally right — that led to Friday's announcement. Which means that unless Tyler Martin is named player-coach for the 2023 season, it will be the first time in more than four decades that a Martin hasn't coached the FSU baseball team.
I really wish it worked for Meat. Really. I have known him for 14 years. I thought he deserved a shot at chief. He has always treated me well and I know he cares more about Florida State baseball than anyone else alive.
But three years after that press conference, it was clear that it wasn't working. At least not to the standard that had been set here before he took over.
And at least in Michael Alford's eyes, it wasn't going to work.
Thus, the search begins.
The first call — if it hasn't already been made — likely goes to former 'Nole and current Notre Dame head coach Link Jarrett. If that doesn't work, there will be plenty of other great candidates lining up for consideration. We've heard that some have already reached out in case a change is made.
The college baseball folks know what the norm — and the potential — is in Florida State. And Friday's dismissal is a reminder of what can happen if that standard is not met.
Contact Senior Writer Corey Clark at corey@warchant.com and follow @Corey_Clark on Twitter.
Don't miss our exclusive podcasts! Subscribe today!
*** Awaken Warchant – Apple | Google
*** Seminole Securities — Apple | Google
*** The Jeff Cameron Show – Apple | Google
Or just search "Warchant" on your favorite podcast provider.
————————————————– —
Discuss this story with other FSU fans on our Seminole Baseball message board